Dr. Cindy Asbjornsen
Advancing Vein Care Treatment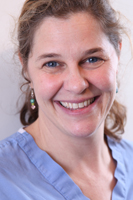 Dr. Cindy Asbjornsen, D.O., FAVLS, RPhS has risen to the forefront of the emergent field of vein health. As part of her dedication to advancing the standard of care in venous disease and treatment, Dr. Asbjornsen has committed her practice to broadening public understanding of vein health, furthering its research, and establishing a uniquely collaborative and comprehensive approach to patient care. As a result, a new population living with the symptoms and complications of all stages of venous disease can live a fuller, healthier, more comfortable life.
Dr. Asbjornsen's commitment to a career in the specialized field of phlebology has gained her national recognition in this evolving field of medicine. Dr. Asbjornsen was one of the first phlebologists in Maine to meet the board certification standards set forth by the American Vein & Lymphatic Society. With the field of phlebology as her principle focus, she continues to play an important role in advancing patient care in a time when minimally invasive endovenous treatment has replaced the old standard known as vein-stripping.
Exceptional Patient Care
As part of her commitment to exceptional patient care, Dr. Asbjornsen maintains an uncommon dedication to her patients, their comfort, and their health. As a result, she helps hundreds of patients a year lead fuller, more engaged lives without self-consciousness, pain and discomfort.
Dr. Asbjornsen takes a particular interest in helping patients understand the impact of vein health on their overall well-being. She devotes much of her time to improving awareness about the opportunities available to patients which combine the best therapies available today with the highest level of medical care. Her thoughtful, knowledgeable support helps her patients take charge of their own health and make the best choices for their treatment.
Dr. Asbjornsen recognized the need for community awareness of vein health, and in 2012 started Vein Health News, a publication for primary care doctors and medical professionals. Vein Health News covers such topics as: modern compression, leg ulcers, deep vein thrombosis, the latest in venous disease care, and more. Although the magazine was originally intended for physicians, patients also find the information useful and accessible.
Leading Vein Specialist
Dr. Asbjornsen is a nationally recognized vein specialist, member of the American Vein & Lymphatic Society, and a board certified Phlebologist. She received specialty training from leading phlebologists in ambulatory phlebectomy, sclerotherapy, endovenous ablation techniques, laser treatment, ultrasound evaluations, radiofrequency closures, and vascular surgery. She is also a board certified Family Practice physician, and completed her Family Practice residency at the University of New England College of Osteopathic Medicine in Biddeford, Maine. In addition, Dr. Asbjornsen is a Registered Phlebology Sonographer.
Her expertise in phlebology quickly distinguished Dr. Asbjornsen in her field, and she was invited to join the faculty of the American Vein & Lymphatic Society's 25th Annual Congress, the country's largest program for phlebology education and leading assembly of nationally and internationally recognized phlebologists. Among her recent contributions to the study of phlebology is first place recognition from the American Vein & Lymphatic Society's 24th Annual Conference for her work on Symptomatic Middle Cerebral Artery Embolism after Foam Sclerotherapy.
Currently, she is a member of the AVLS Conflict of Interest committee, as well as the Chair of the AVLS New Member Committee.
In the past, Dr. Asbjornsen has held positions as Campus Physician at Brunswick Maine's Bowdoin College; as Family Practice Physician in urgent care at Southern Maine Medical Center in Biddeford, Maine; as a Phlebologist in a private practice setting in Portland, Maine; and as a Hospitalist at Parkview Adventist Medical Center, in Brunswick, Maine.
In addition, Dr. Asbjornsen is a member of the American College of Osteopathic Family Practice, the American Osteopathic Association, the American Society of Medicine and Surgical Lasers, and the Maine Osteopathic Association.
New Era of Care & Collaboration
By establishing Vein Health Care in South Portland, Maine, Dr. Asbjornsen helps welcome a new era of health care in the field of phlebology. At the Vein Healthcare Center, she is dedicated exclusively to providing outstanding medical treatment of all aspects of vein health for patients in all stages of venous disease. The center provides patients, physicians, and the general public with an exceptional resource for medical treatment by a leading vein specialist.
Dr. Asbjornsen welcomes the opportunity for referrals from physicians and medical professionals whose patients may be new to vein treatment, and those who have had previous experiences with vein treatments and have been dissatisfied with traditional, more invasive approaches.
In an effort to pave the way toward a truly collaborative environment between practitioners and the specialists they work with, referring physicians can expect complete and thorough communication about their patients' care. In addition, physicians of all disciplines interested in exchanging ideas about vein health or deepening their understanding of the latest approaches to vein care are encouraged to contact Dr. Asbjornsen.