Request an Appointment
Ready to take the next step towards understanding your vein health and the available treatment options? Click here to request an appointment.
---

Testimonials
See what some of our patients have to say about treatment at the Vein Healthcare Center. Click here to read more.

---

Do I have Venous Disease?
Millions of people across the United States experience its symptoms. Find out more by asking yourself these 12 questions
---

Are you a physician interested in learning more about the field of phlebology?
The way physicians manage patients with vein disorders is vastly different in light of today's new options for care. Be part of our efforts to increase public awareness in the field of phlebology so we can work together to promote understanding, advance research, and improve the standard of patient care. Find out more

---

Have Venous Disease?
Get relief now. Read "10 Things you can do to ease your venous disease symptoms"




---

Educational Video
Get practical, easy-to-understand explanations about vein treatment in this ACP-produced video. Click here to watch.




---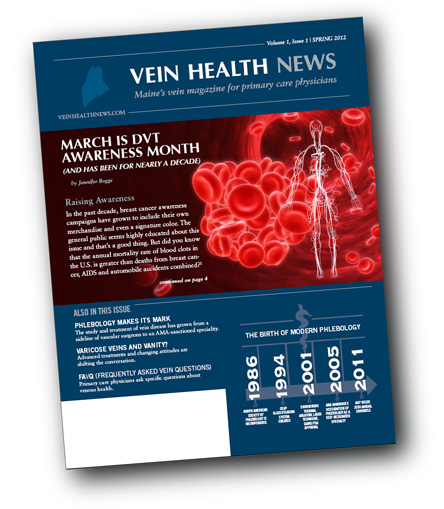 Dr. Asbjornsen is the Editorial Director for Vein Health News, Maine's vein magazine for primary care physicians. Read the Latest Issue and download back issues.

News and Information from VHC
Welcome
At the Vein Healthcare Center, we're helping patients, physicians and communities view venous disease and its symptoms in a new way.
Many people who experience vein disorders have been disappointed with traditional methods of care, or have been discouraged from seeking treatment because of limited options.
The Vein Healthcare Center serves communities in Maine, New Hampshire, Massachusetts and Canada, and brings superior medical care to those at every stage of venous disease. Dr. Cindy Asbjornsen focuses on providing a comfortable setting where she can evaluate your individual symptoms – from the first appearance of varicose veins to advanced-stage venous stasis ulcers – and explore the best avenue for your treatment.
While varicose veins can hinder confidence and the ability to participate fully in life's activities, venous disease is never simply cosmetic. It is a progressive disease that can lead to incapacitating symptoms, heightened pain, and intensified health concerns. Today, those suffering with venous disorders and their symptoms can improve their overall health, and manage the progression of their disease. Patients can benefit from today's minimally-invasive therapies with very little pain and outstanding success rates when performed by an experienced, board certified phlebologist.
Venous Disease can be treated.
If you live with the effects of venous disease, it's the right time to learn about the opportunities you have to ease your symptoms and help you live a fuller, more active, pain-free life.
The Vein Healthcare Center provides services for patients in Maine, New England, and surrounding communities and accepts most major insurances. Visit Dr. Cindy Asbjornsen in her South Portland office, or contact us at 207-221-7799.